Isla Navidad
Georgia J turned north today (2/25) starting her final leg of the our cruise. Despite being anchored securely for over one week at Las Hadas, the anchor alarm blared at 6:30 am as the boat began to drift north indicating her readiness to go. We motored in 5' swells and dead wind for 4 hours to reach the
Grand Bay marina at Isla Navidad
. We expect to be here with Warren Peace for about four days before continuing north to Puerto Vallarta.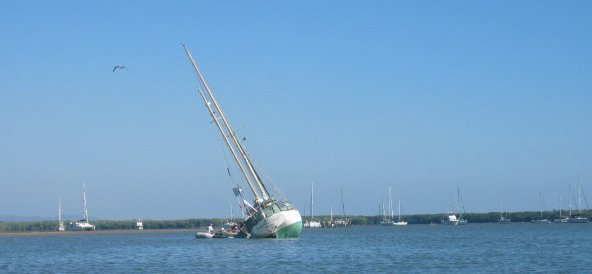 The Barra Lagoon Channel is Narrow and Unmarked
I drove my dingy to this grounded boat and ask the Captain if there was anything I could do to help. In unison, crew cried out for more beer.
Separated At Birth
Warren Peace (hull #11) and Georgia J (hull#12) were built beside each other in 1985 in the King Dragon shipyard in Taiwan. They are both Passport 47's with identical hulls.
When I bought Georgia J two years ago, she came with a spare engine which originally belonged to Warren Peace. Through a series of complex financial transactions, the extra engine made its way from Warren Peace's belly in Taiwan to Northern California where it was removed. From there the engine found its way to Los Angeles and ended up back in San Francisco in my garage. Thankfully, I have sold the old engine and made space in the garage.
The two boats are now anchored together in Southern Mexico and their people are close friends. Small world.
Leaving Isla de Navidad
We are planning to leave the marina at Isla de Navidad tomorrow (3/6). We will be heading north along the
Cosalegre
staying at various anchorages along the way. I doubt we will have internet service for the next two weeks.
Bahia de Careyitos
is likely to be the first stop. Hasta luego.