A Tough Passage-
La Cruz to Isla Navidad
On January 16th, Sharon and Kim again set out alone. At 3:30 am we arose and prepared for the passage to Isla Navidad, a journey of 128 miles along Mexico's Gold Coast. Since the anchorage was crowded and rolly, we decided to wait until dawn to put up the sails. Unfortunately, we ended up motoring for the entire trip since it never seemed calm enough to turn into the wind and hoist the main. Although we had received a personalized weather forecast the night before, we decided to call
Commander's Weather
for an update. The prediction called for moderate winds and seas.
We rounded Cabo Corrientes at about 10:00 am in confused seas and 20 knot winds. Since Cabo Corrientes is considered the
Point Conception
of Mexico, these were the conditions we expected. However, we did expect the conditions to gradually improve after we rounded Corrientes. On the contrary, the wind and waves continued to build. By 3:00 pm we had very steep 12' swells hitting us on the beam and stern quarter. Georgia moved closer and closer to the beach attempting to keep the waves square to her stern.
Along the way, we did enjoy the sights. First, we saw a big sea turtle who almost bumped the boat. A dolphin jumped out a large swell and executed a perfect two turn twist while standing on his tail. For at least 20 miles, we followed a pristine beach with no hotels, roads, or houses.
After dark, we needed to move farther offshore since the charts for this area of Mexico can be inaccurate by up to 2.5 miles. (The last survey was done in 1897.)
We were surprised that the wind and swells continued to build reaching 30+ knots of wind and estimated 15' steep waves at short intervals. At around 9:00 pm, the waves started breaking around us. Since we had only seen one other boat in the last 12 hours, we were feeling a little lonely. Realizing that no one in the world knew exactly where we were or where we were going, we decided to call our friend Rob and file a float plan. Via satellite phone, we gave Rob our position, heading, speed, destination and phone number for the Mexican Navy. Rob insisted that we check in again at midnight and in the morning.
During the night, two birds which looked like doves flew just over our dingy suspended above the swim step. We dubbed them our guardian angels. They stayed with us for several hours and disappeared when the waves stopped breaking at around midnight. The big swells continued through the very dark night, but were less frequent as we approached dawn.
Georgia reached the
Isla Navidad resort
at 8:30 am with a very tired crew completing the 27 hour trip. Tied to a dock for the first time in 2 1/2 weeks, we requested an immediate boat bath and headed off in search of breakfast and Bloody Mary's.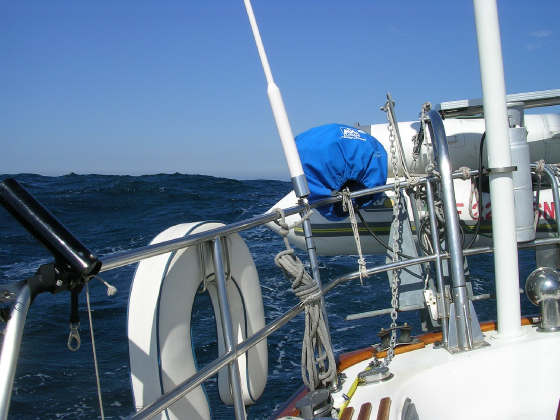 A Calmer Moment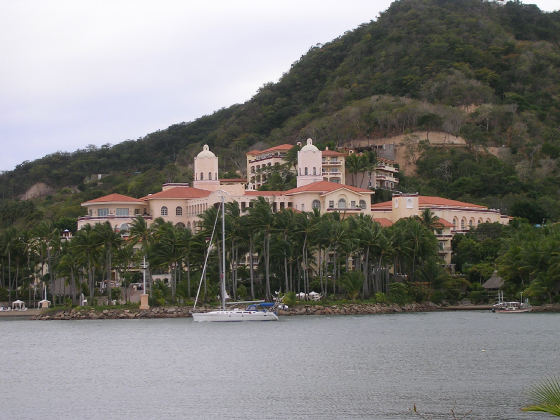 Isla Navidad Resort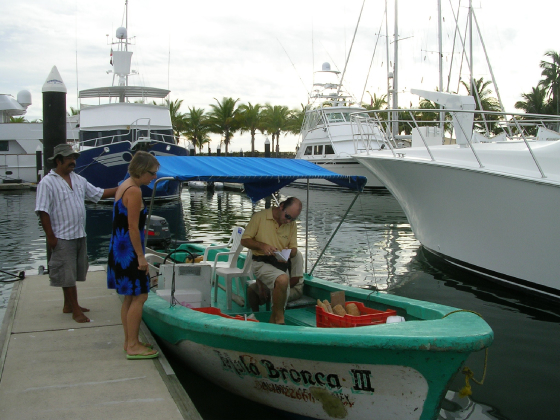 The French Baker delivers fresh bread every morning in Navidad
North Carolina Side Trip
Two days after reaching Isla Navidad, we flew from Manzanillo to North Carolina to celebrate the 60th wedding aniversary of Sharon's parents. When we cleared the screaming TSA officials in the Houston airport, we already missed the polite, relaxed culture of the Mexican people. After a long weekend, we will return to Navidad on January 22nd with a suit case of boat parts and start the next leg of our trip.
Up the Mast Again
Kim was particularly proud of the exceptionally safe manner in which he went up the mast to replace the lazy jacks. As instructed by our sailing mentor, Captain Craig, Kim used two halyards with both bowlines and shackles and closely inspected the bosun's chair.
However, at 60' up, Kim realized that Craig never discussed the quality and expertise of the individuals tailing the safety lines during the ascent. Kim realized that he had only met one of the individuals 10 minutes before going aloft. Most of that time was spent explaining the meaning of the english words "up" and "down." The other line was being tailed by a women who stood to collect over $1,000,000 in life insurance proceeds if she accidentally lost her grip. Upon safely returning to the deck, Kim's legs and arms were covered in white paint from the death grip on the mast.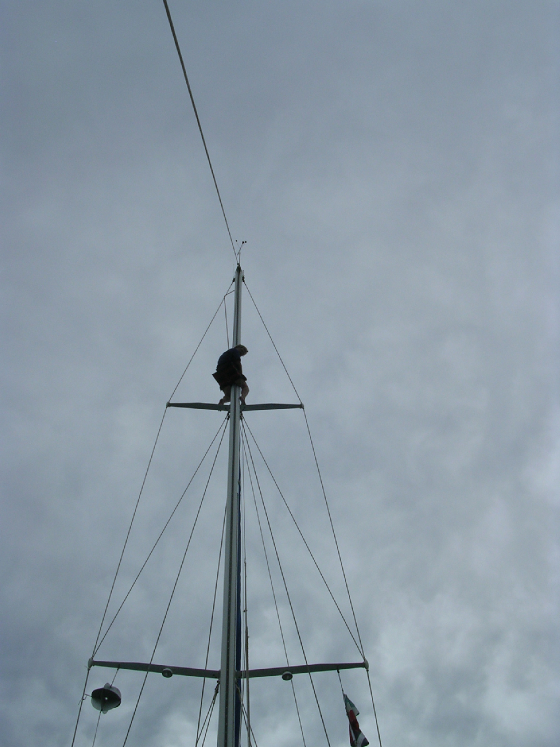 Hold on Tight
Leaving Isla Navidad
We have pretty much completed the repairs we hope to do at Isla Navidad. The generator is working and the lazy jacks are replaced. After a change of oil and fuel filters, we should be ready to go.
We left the resort at Isla Navidad on 1/27. We will anchor out in Barra Navidad for a couple of days before heading north to Tennacatita or south to Z Town. May be hard to reach for a while.
We are really enjoying the anchorage in the Lagoon at Barra Navidad. We have extended our stay through at least January 31st and plan to then go to Tennacatita to meet our friends on Warren Peace. They need to go faster to catch up.
Amnesty Granted to Georgia J
Mexican Law requires boats to notify the Port Captain when entering or leaving each port. Unfortunately, Georgia J forgot to do this in the last five towns visited. Yesterday, we decided to come clean with the Capitan del Puerto in Navidad. After a long search and many wrong turns, we found the officina (in his home). We expected this visit to be like the worst trip to the DMV followed by a short prison sentence. We told the Capitan that we were there to provide notice of our departure from Navidad Lagoon. After reviewing our somewhat thin documentation, the Capitan noted we had failed to check in Navidad. Finding that our last check in was in Mazatlan, he just rolled his eyes and went to work.
The next question involved the status of Kayce, who was shown as a crew member when we left Mazatlan. Port Captains are particularly finicky about crew members who disappear at sea. We assured him that Kayce was safe and sound in Seattle.
Then El Capitan wanted to know where we planned to go next. We told him we would be anchoring in Tennacatita for few weeks. After that we were not sure, but we would definitely be going North or South. With another roll of the eyes, he put Zihuatanejo on the form as our next destination, added his official stamp and wished us a safe journey. The total time in the officina was 10 minutes. We are continuously amazed by how graciously and friendly the Mexican people treat us.
Tennacutita
Georgia J was anchored for two weeks
Boca de Iguanas
in beautiful Tennacutita ("TEN NA CU TEA TA") Bay
Tennacutita Highlights:
1. Meeting "Chips"
"Chips" the dolphin knows hard luck. He lost a big chunk of fin- probably from swimming with sharks or surfing too close to some power boater. Chips and his mate hang out in Tennacutita anchorage. We first heard of Chips when a neighbor said two dolphins were swimming up and down his anchor chain scratching their backs.
I met Chips on two occasions when I struggled alone with the dingy in the beach surf. After the surf knocked me down repeatedly and filled the dingy with water, I was able to start the engine and push over the breaking waves. Chips and his mate met me both times in about five feet of water and repeatedly swam by the dingy. I had an eerie feeling that they were looking out for my safety.
2. Visit from Bob and Pam
Bob and Pam stayed a week in Tennacutita. The luxury of having good friends with an automobile and real hotel shower was unbeatable.
3. Jungle Cruises
Water and food were only available via a three hour dingy trip up a jungle river. After crossing the river bar (just like Bogart in the African Queen), we made our way through the mangrove swamp to the Village of Tennacutita where water, groceries, palapa restaurants, and cold beer awaited.
4. Dingy Snorkel Trips
Crystal clear water with lots of pretty fish.
5. "Warren Peace" Arrives
John and Sharon Warren have finally caught up. They have already provided fresh Mahi Mahi, America steaks, California wine, Mexican lobster, water from their water maker and great company.
6. Whales
Almost every day, some one announced on the radio that one or more whales had entered the anchorage. One day, John Warren saw a whale surface right next to Georgia J while I stood in the dingy trying to start a stubborn outboard engine. I never even saw him.
Early one morning, I heard a sound in the boat which I recognized, but could not place. Each time I went on deck the sound disappeared. Then I remembered the sound of the humpback whale. I went to my trusty iPod and listened to my humpback whale CD to confirm what I was hearing. Sharon and I listened to them for over an hour. I found that when I put my ear to the hull of the boat I could often hear them sing at night from our bunk.
Sharon was afraid the whales might sink the boat. Although something clearly bumped the bottom of the boat one day, it was probably the accident prone Mr. Chips.