Isla Isabella
Isla Isabella is a national park about 90 miles south of Mazatlan and 15 miles off shore from the mainland. Captain Kim had read that the island was a small tricky anchorage with hidden boat eating rocks. However, the female crew threatened mutiny unless we at least tried to visit the island. We had a beautiful overnight sail constantly trying to slow the boat down so as not to arrive before daylight. The sail was, however, a bit rocky for Kayce as she had not quite acquired her sea legs and spent a good amount of time tethered in to prevent being tossed over board as she feigned good humor while "feeding the fish" from her personal stash. Fortunately there were many diversions along the way and we were entertained by dolphins and humpback whales almost close enough to touch.
We spent two nights at Isabella which included a hike in search of the famous blue footed boobie. The island is absolutely covered with birds which ignore the humans who gingerly step between their nests. While we found one yellow footed boobie, we never found the blue ones. Sharon continues to show amazing bravery on this trip as she has had a strong aversion to birds in the past but was undaunted by their presence on this magical island.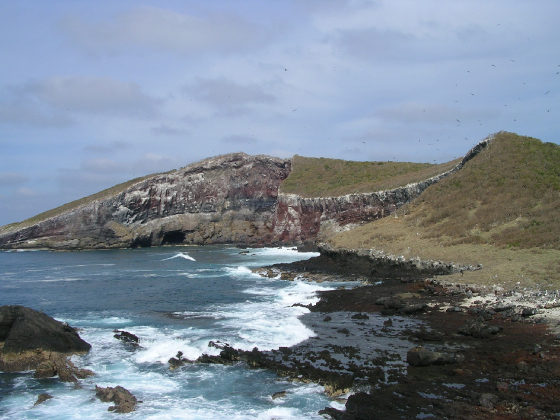 Isla Isabella- Windward Side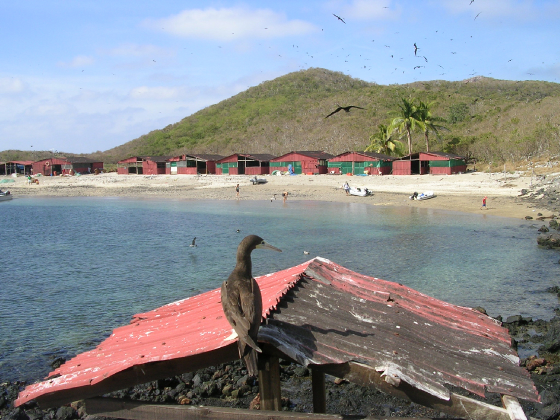 Downtown Isla Isabella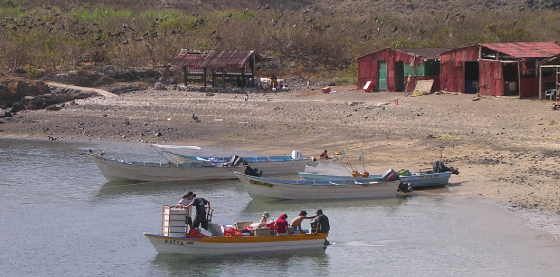 Overloaded Mexican Panga Preparing to Cross 15 miles of Open Ocean- Note the Refigerator at the Bow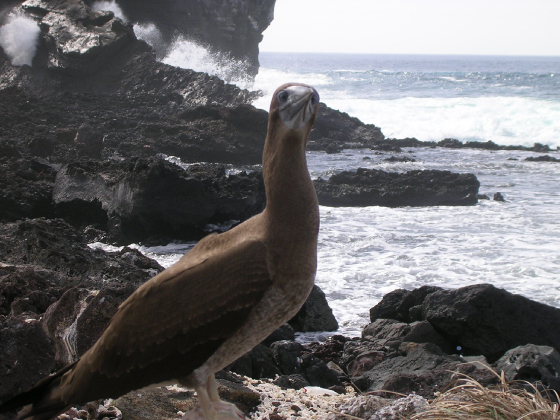 Isla Isabella Local
Matachen Bay and San Blas
Next stop was Matachen Bay near the town of San Blas. During the passage we saw an amazing number of whales which breeched for our entertainment. San Blas is considered the mosquito and "no see um" capital of the world. However, we had purchased bridal veil fabric to supplement our window screens. Kayce also brought plenty of Jungle Juice which is composed of 98% DEET. We anchored almost a mile off shore and were only bit a few times. We planned our days accordingly and were huddled into the cabin before the magical feasting hour of the bugs.
By the time we arrived, we had encountered a serious Tequila shortage on the boat which threatened to eliminate the afternoon margaritas (essential for "huddling" in the cabin.) Sharon convinced a local palapa proprietor to sell us a half bottle of his personal stock (housed in a slightly used vodka bottle. Be advised: "risk" is a part of adventure.) This turned out to be an excellent purchase.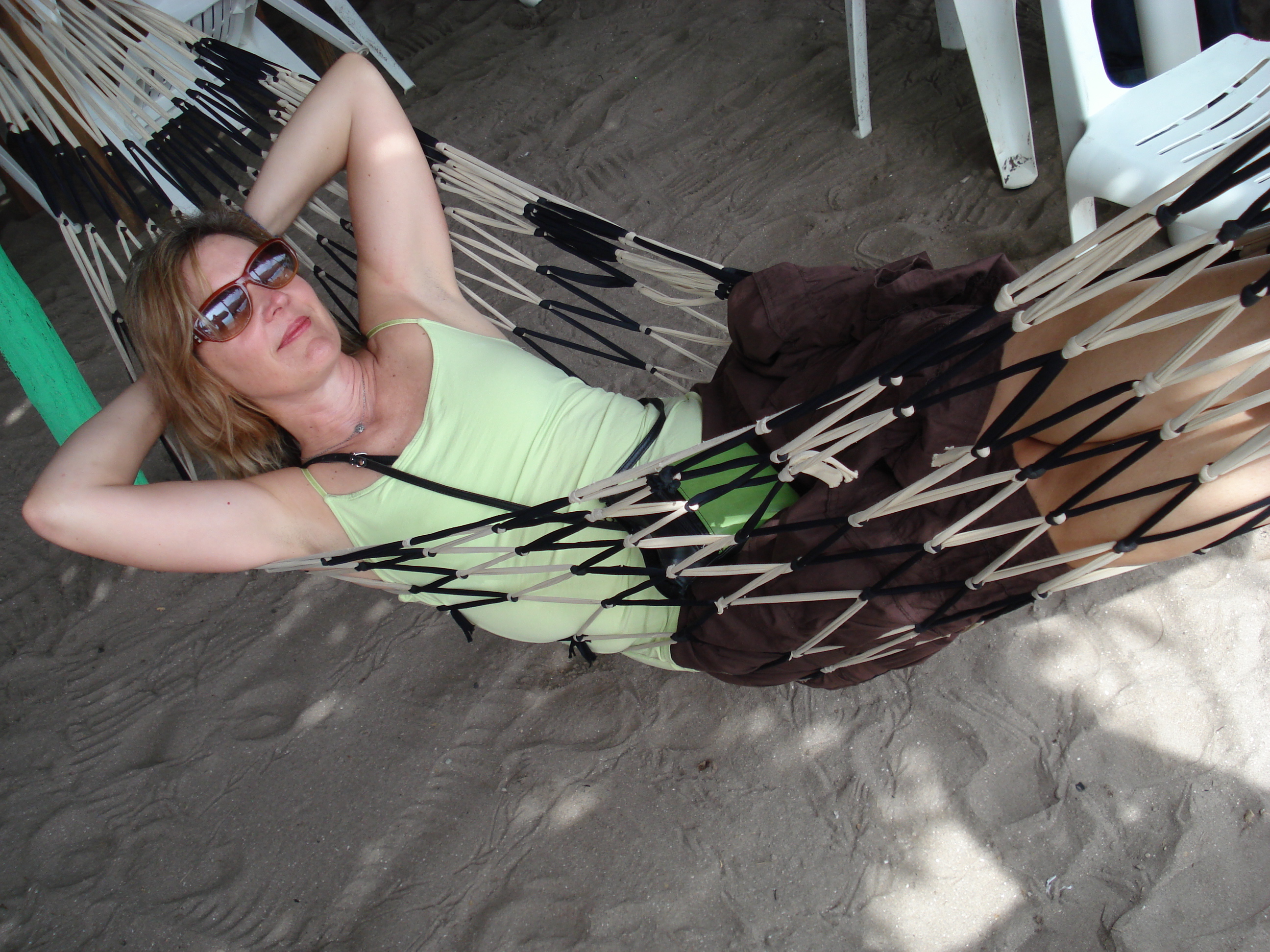 Kayce Had Little Difficulty Adjusting to the Cruising Life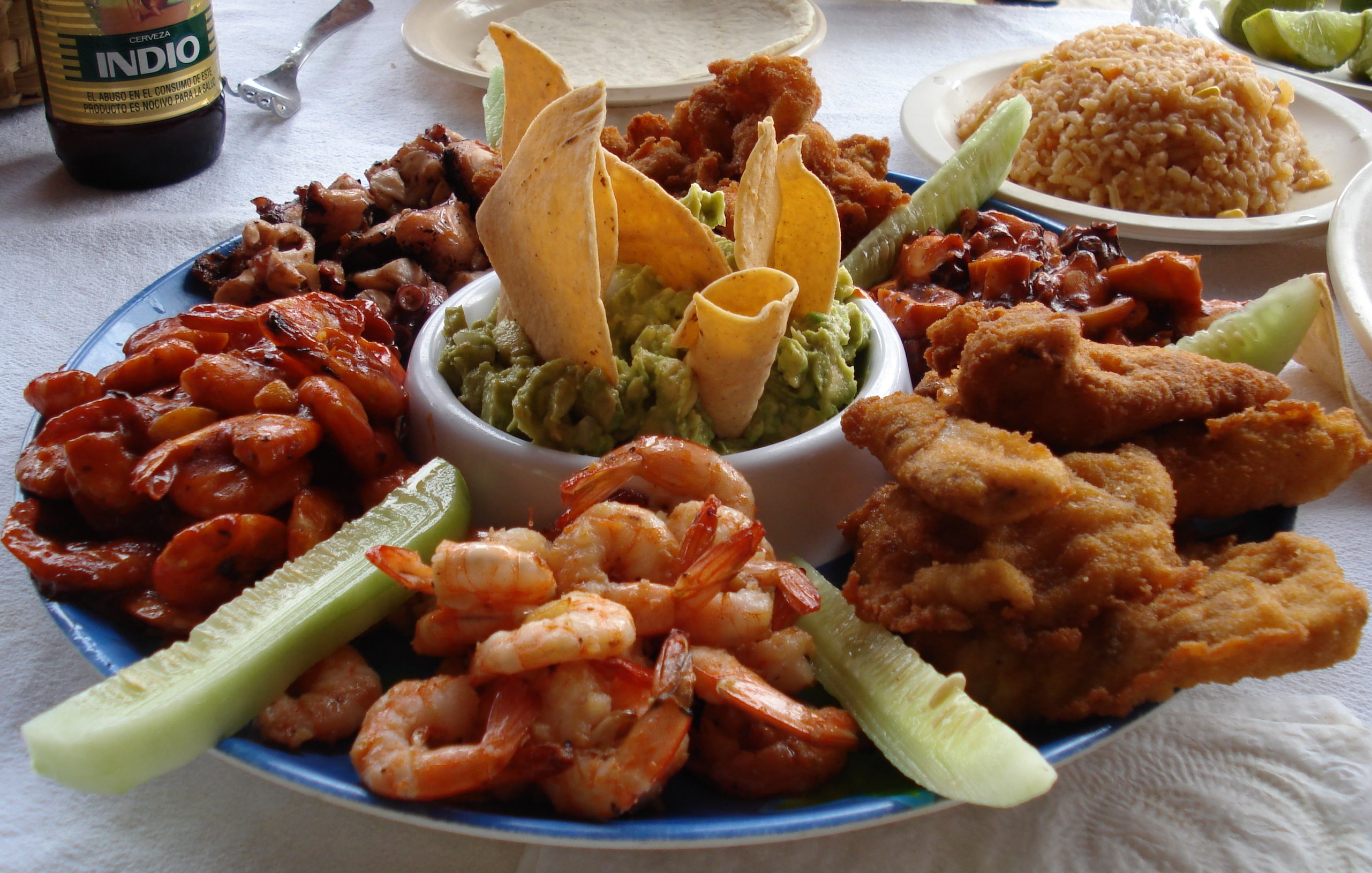 Dinning on the Beach in Matachen Bay
Chacala Bay
After two days in Matachen Bay, we sailed on to Chacala Bay. The pueblo of Chacala is surrounded by beautiful cliffs, coconut trees and banana plants. Again, we dingied to town to replenish our provisions. This time we found a full dusty bottle of Tequila which Kim purchased for a mere $38. This turned out to be a less than excellent purchasing decision.
After one night at Chacala, we determined that the anchorage was too rolly and the margaritas too weak. We ventured on for calmer seas and new horizons.
Isla Peňa
The next leg was a quick six mile motor sail to Isla Pena where we anchored among the giant shrimp boats. Although the wind picked up, we took the dingy approximately one mile to shore. Captain Kim determined that it was not safe to land the dingy due to the giant breaking waves. Big mistake. The crew once again revolted and placed the El Capitan under house arrest. There was no appreciation for the fact the Captain had saved both of their lives. (There are mixed blessings to having an all female crew!) We sailed away the next morning to the shouts of "hasta la vista!" from the local fisherman.
La Cruz anchorage (8 miles from Puerto Vallarta)
We pushed on past the tricky entrance to Banderas Bay headed at last to our goal of Puerto Vallarta. However, we were unable to secure a slip in a marina so we anchored in the small town of La Cruz only eight miles from PV.
La Cruz turned out to be our favorite town. However, by this time the generator had stopped which prevented us from making water. We had also chaffed through the lazy jacks which fouled the main halyard and forced Kim and Kayce to flake our big main by hand.
A local gringo helped to arrange for panga to deliver water to the boat and for a mechanic to fix the generator. Unfortunately, neither the panga nor the mechanic showed up. After two days (or was it three?) with no showers, the Captain again detected a rumbling, growling noise among the crew. To head off further insurrection, the Kim dingied to shore in search of aqua purificado.
The first step was to hire local labor to help transport approximately 100 gallons of water. Kim found a strapping fifteen year old, Ramon, on the beach and secured his labor for a mere $10. Another bad purchasing decision. Ramon turned out to be a weak, whiney kid who wanted to be paid with Cervezas. Nevertheless, Kim and Ramon found a small store a half mile from the beach which had 20 five gallon water bottles. This was apparently the biggest sale ever from the store since a small crowd began to gather to see the crazy gringo who paid so much money for mere water. Unfortunately, all the taxis had stopped running, so Ramon and Kim begged for an amigo con coche to take the water to the beach. After 30 minutes, a pretty senorita showed up in the biggest, shiniest, Ford pickup ever. Kim and Ramon sat on the tail gate struggling to hold back bottles of water weighing a combined total of 833 pounds while the senorita attempted to set a new speed record for cobble stone streets. On the beach, the senorita offered to help unload the truck and refused to take any money for her trouble. La Cruz is a very friendly town. Four dingy trips later the water was safely ensconced on Georgia J.
With happy and clean marineras, we ventured to town to celebrate Kayce's birthday and the close of a fabulous adventure for the tres amigos. We found an excellent restaurant with live music from the Muy Mango duo. Following dinner we continued the night by dancing to a rock band at the local gringo hangout, Philo's. Capitan Kim was much envied for his lovely female crew.
Sadly, the day arrived when Kayce had to return to cold, snowy Seattle. We dingied her to the beach to say our goodbyes. When we started the trip, Kayce had never slept on a boat or spent time at anchor. Despite the aforementioned queasiness at the beginning of the trip, she embraced and enjoyed the cruising life more than Jack London ever did. We only regret that she never got to see Puerto Vallarta or perfect her figure eight knot—maybe next time!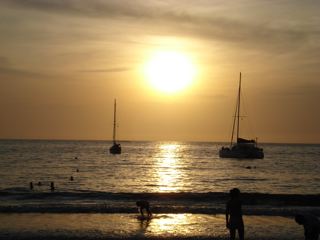 La Cruz Anchorage